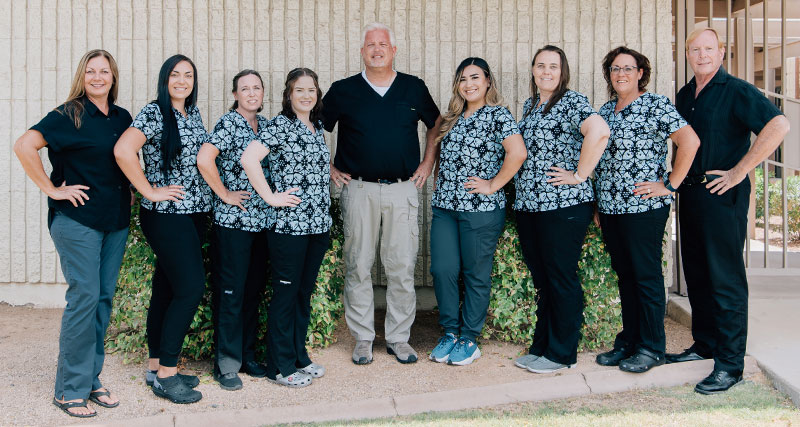 ---
Veronica
Office Manager
My background is in management. I was taught the basics of dentistry at the first office I worked at and then took the initiative to continue learning about the field. I enjoyed getting to know the patients so much that I made it my career! I find our patients and the stories they share to be fascinating. I enjoy getting to know each person who comes to us for care, hearing about their families, lives, and interests, and learning from each exchange. I'm sure others said it, but our patients really are like family!
I have two daughters. Madison works in the office with me, and my older daughter has blessed me four beautiful grandchildren. They are my joy. I am engaged to a wonderful man and look forward to our life together. I attend Vineyard Church and am enjoying watching the grandchildren learn and fill their hearts with God. I am an avid Michigan Wolverine fan and always look forward to college football season!
Madison
Front Office Coordinator
I started working with Dr. Laws when I was still in high school, figuring out what I wanted to do. I finished my college education with a Bachelor's in Forensics and Psych, but still love working in dentistry! One of my favorite parts is chatting with our patients. They are why we do what we do, so I love visiting and getting to know those who come through our door.
I have three nieces and a nephew who are my world, as well as an adopted dog named Lola that consumes a lot of my time making sure she's well taken care of. I like to spend my free time enjoying the outdoors like hiking or being poolside, or being out with friends and family.
Wendy
Registered Dental Hygienist
I began as a chairside assistant in 1987 with X-ray certification, earned my Associate of Applied Science in Dental Hygiene in 2005, and completed my Bachelor of Science in Dental Hygiene in 2013. My favorite part of my job is and always has been patient care. I enjoy the social aspect of meeting new patients and getting to know them on a personal level. With so many different personalities, I feel that I can relate to most everyone in some way. I enjoy being a friendly face every time they come in for treatment.
My husband Ron and I have two adult daughters, Rebecca and Amanda, both of whom are married, as well as one granddaughter. I enjoy hiking, boating, gardening, and road travel—pretty much anything that has to do with the outdoors!
Lori
Registered Dental Hygienist
I earned my Bachelor of Science in Dental Hygiene from Idaho State University in 1995, and joined Laws Family Dentistry shortly thereafter. Interacting with my patients is the best part of my job. The connections I build with others are important and make the service I provide more rewarding. It's great that every day I come to work and serve great people, helping making their lives healthier and more enjoyable, while becoming friends with them.
I moved to Arizona in 1995, where I met my husband. I have a daughter, son, and son in law. This year I also became a grandmother! I enjoy traveling to see family when I can, and love to explore new areas. I enjoy being outdoors, hiking or working in the yard when the weather cools off. I also try to volunteer at church and enjoy curling up with a good book.
Tara
Dental Assistant
My career in the dental field began at Carrington College. I've always been committed to advancing my skills, volunteering my time with Mission of Mercy, and consistently pursuing continuing education to stay at the forefront of my profession. What truly fills my heart with joy is comforting and laughing with my patients, especially those who may be a bit nervous. Assisting the doctor chairside during procedures and ensuring that every patient leaves with a clear understanding of their dental treatment are all facets of my work that I hold dear. It's a privilege to be a part of their dental care journey.
I am a single mom of three girls and spend a lot of time with my three grandkids. My two dogs and three cats also take up a lot of love and attention! In my free time, I love reading True Crime, traveling, and crocheting when I have time.
Jackie
Dental Assistant
Hello, I'm Jackie, a dental assistant with an associate degree in applied science and dental assisting. I've had the privilege of working in the dental field for more than five years, where my primary mission has been to ensure that every patient receives top-notch care during their visits. What truly fuels my passion for this profession is the opportunity to witness the transformation in our patients' lives as they leave with a brighter, more confident smile. It's a rewarding journey, and I'm thrilled to be a part of it.
I have a huge family, full of nieces and nephews who are so much fun. I also have a dog named Flash. On my spare time when I'm not in the office, I like to go to the gym or play softball.
Katie
Dental Assistant
I started on my journey in the dental field by graduating from Altrain Dental Assisting Academy in 2020. My career in dentistry found its home at Laws Family Dentistry, where I wear many hats: from setting up and tearing down rooms, to ensuring patients are comfortably seated and dismissed, charting alongside hygienists and Dr. Laws, taking X-rays, and meticulously sterilizing instruments. Beyond the clinical aspects, what truly ignites my passion for this profession is the chance to connect with patients on a personal level. It's incredibly rewarding to form bonds and offer comfort to those facing the challenges of dental work, making their experience as smooth as possible.
I was recently married to my high school sweetheart, Dylon, in September 2022. We recently welcomed our son, Dawsen, into the world. I have a German shepherd named Casey as well. In my free time, I love to spend time with my family and play with my son. I also enjoy traveling; road trips are my favorite because I get to spend quality time with whomever I'm traveling.
Terry
Dental Hygienist
Welcome to Laws Family Dentistry! I've had the pleasure of working with this practice for more than 30 years. In that time, I've learned that it's not what office you work in or the technology used there or the location, it's the people you work with who make the difference. I have never worked with such a great team of people in all my years of practice. We're all dedicated to our patients' dental health—there's nothing better than seeing a patient enjoy going to the dentist!
I keep pretty busy outside the office! I'm a former news, sports, and wedding photographer, as well as a current realtor, real estate broker, and home inspector. My hobbies include science, especially astronomy and the biological sciences, the outdoors, and riding horses!