As a comprehensive dental practice, we offer our patients a wide range of prosthodontic treatments. Prosthodontic care focuses on complete oral rehabilitation and treatment of numerous dental conditions, such as:
TMJ/TMD
Traumatic injuries to the mouth's structures
Congenital or birth anomalies to teeth
Snoring and sleep disorders
Oral cancer reconstruction and continuing care
Dentures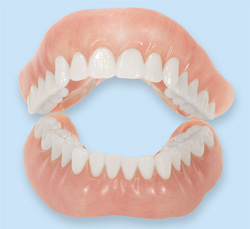 What are dentures?
Dentures are natural-looking replacement teeth that are removable. There are two types of dentures: full and partial.
Full dentures are given to patients when all of the natural teeth have been removed. Conventional full dentures are placed after the gum tissue has healed, which can take several months. Immediate full dentures are placed immediately after the teeth have been removed and may require frequent adjustments during the first couple of months of use.
Partial dentures are attached to a metal frame that is connected to your natural teeth and are used to fill in where permanent teeth have been removed. Partial dentures are considered a removable alternative to bridges.
All-on-4™
Maintain optimal oral function and aesthetics with All-on-4™ same-day teeth replacement. Using state-of-the-art technology, All-on-4 treatment replaces traditional dentures, which can be uncomfortable, inconvenient, and poorly fitted. All-on-4 turns problematic chewing and speaking into relics of the past.
Using only four dental implants to attach a full dental restoration, your doctor can give you the stable, functional, and cosmetic solution you've been looking for. Best of all, your dentures can be placed on the same day as your implants, so you don't have to wait to get the restored smile you deserve.
The Benefits of All-on-4
Because All-on-4 allows full-arch restoration with only four implants, your treatment and recovery time are greatly reduced.
All-on-4 lowers the need for bone graft surgery while ensuring greater stability in the existing bone. It can even be used for patients who have been told they do not qualify for implants due to bone loss.
The All-on-4 solution is more comfortable than traditional dentures because All-on-4 implants are more secure and feel like natural teeth.
You'll never have to worry about your false teeth slipping or falling out while you eat or engage in conversation.
There is no need for denture adhesive!